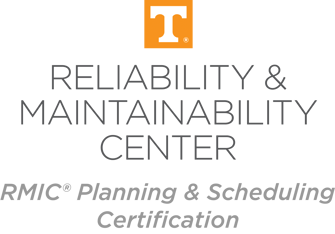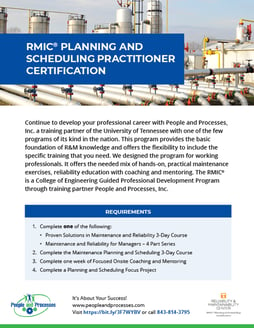 Want more information?
Download this brochure or fill out the form to be contacted by us to discuss.
UT-RMC is very excited to work with our long-term training partner, People and Processes Inc, as one of our key training providers for our traditional classroom version of our RMIC® – P&S Certification, and to offer Maintenance Planning and Scheduling Training both in a public classroom forum or privately at your site," says Dr. Klaus Blache, Director of the Reliability and Maintainability Center at the University of Tennessee. " The public session offered at UT-RMC featuring instructor, Jeff Shiver, CMRP, RCM2 / RCM3 Practitioner sells out every year. Jointly, we feel the RMIC® – P&S credential, will bring a level of professionalism to the maintenance planning and scheduling discipline, and fits well with our existing Reliability and Maintainability Implementation Certification program."
People and Processes Inc is excited to be a part of this New Certification. Continue to develop your Professional career at the University of Tennessee with one of the few programs of its kind in the nation. This program provides the basic foundation of R&M knowledge and offers the flexibility to include the specific training that you need. The RMC has designed the program for working professionals. It offers the needed mix of hands-on, practical maintenance exercises and reliability education. The RMIC® is a College of Engineering Guided Professional Development Program. Contact us for more information.